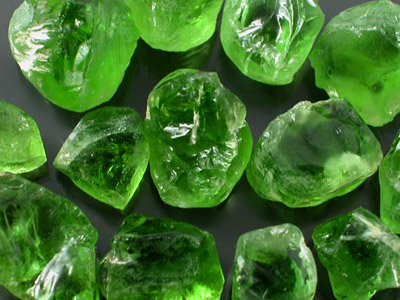 This beautiful brilliant green crystal is associated with the heart and solar plexus chakras. Aligned to the Earth, fire and water elements. Aligned to musical notes E and F.

The Message:
 The above image of the Peridot Crystal Deva is copyrighted to ©PsychicArtbyJanine and is used with permission. All rights reserved.
 We, the peridot crystalline consciousness are the crystal to turn to when one has a desire to bring release and completion to old mental and emotional patterns that do not serve one's higher destiny. We impart healing and assistance to aid in this important process and we enable an individual to move forward into a new beginning by cleansing and clearing the heart and solar plexus chakras of all that has inhibited forward movement.

Our influence is soothing, calming, healing and joyful. We give the ability to the individual to truly know themselves and to face the truths of all facets of their being with calm acceptance and equanimity. This integration of all aspects within themselves facilitates a freedom from within and a release for the individual to move confidently into their future with joyful anticipation, renewal and vitality.

We are enablers. We bring that which is needed to be addressed to the forefront so that an individual can move beyond former limited perceptions into the knowledge of their greater talents, skills and abilities. When an individual has a great desire to exceed former perceived boundaries in order to expand their possibilities, we support them in this endeavour. We stimulate the intellect to think in new ways while retaining a balanced perspective. We assist humanity during their times of transition into new pathways along their spiritual journey.

We bring the qualities of generosity, abundance, peace and hope to the one who carries or wears us on their person. We help one to see with clarity when they feel confused by illuminating the truth of their own feelings about themselves. This assists in keeping them grounded and stable in all their actions, feelings and thoughts. We enable great insights about self to come to the surface and this helps an individual to truly know all facets of their being.

We emit a high frequency that engenders positive feelings and can assist an individual to use their intuitive ability to connect with the higher spiritual dimensions. We impart a supportive energy that surrounds a person's energetic field and generates a beneficial energy flow in the wearer. This activity promotes healing on the emotional and physical level and also has a rejuvenating effect and influence. The individual's powers of creativity are enhanced when we are employed for this purpose.

We are joyous to have this opportunity to commune with you!

 ©Marlene Swetlishoff. 
All rights reserved to the author/Scribe and www.therainbowscribe.com. Copying translating and sharing of this material is not permitted. The making of videos in any language is not permitted. This article is for the reading enjoyment of those who come to the website.